As we age, the process of cell regeneration slows down. Old skin cells are piling up and newer ones are slower to come in. This buildup of dead skin cells can not only leave your skin looking dull and dry but can also cause excess oil to clog the pores, which can cause blemishes.
When you exfoliate your skin you remove dead skin cells that sit on the surface. Exfoliating can increase blood circulation which helps your skin have a bright glow and unclog your pores to help reduce blemishes.
There are many ways to exfoliate the skin. If you haven't done it before, you may want to start off with a simple scrub just two times a week to see how your skin reacts. Most of these products contain sugar or salt crystals that help remove the dead skin. Make sure that after you scrub you apply a good moisturizer. Grapeseed oil is a great lightweight moisturizer to try plus it is high in Vitamin E, provides antioxidants for the skin, and is high in linoleic acid which has been thought to reduce clogged pores.
LUSH Ocean Salt Face & Body Scrub $21.95
Made with sea salt, softening avocado butter, and lime to exfoliate and brighten the skin.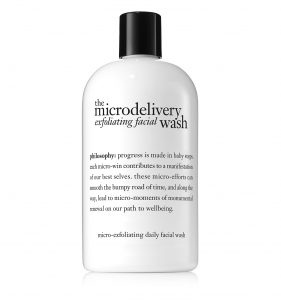 PHILOSOPHY the Microdelivery exfoliating facial wash $15
It is formulated with an invigorating, fresh scent and micro-exfoliating beads and can also be used as a 30-second cleansing mini peel that can be conducted in the shower, bath or at your bathroom sink.
QUEEN HELENE Oatmeal 'n Honey Scrub $5.62
This facial scrub helps draw out impurities and remove dead, dry skin cells, all while the soothing honey nourishes the skin.
These bath gloves increase the lather of your body wash and whisk away dead skin cells. Pour a small amount of body wash or soap onto the glove and rub gently over the body in circular movements.