At a time where the word, philanthropy conjures up images of older gray haired ladies seated as chairs to charity galas, boards of directors and leading civic initiatives that most know nothing about and can not relate—enter the inspiring, Dominique Sensabaugh. This mission mogul is changing the "face" of philanthropy for black millennials and is passionate about creating opportunities for others to serve. Not content with seeing her underrepresented communities at a loss for proper resources, Mrs. Sensabaugh has created a platform, HAPPY BIRTHDAY DOMINIQUE to sow back into her community in a way that fills you with gratitude. Her enthusiasm for mission work and her belief that "yes, service can be sexy" is contagious.
In 2017, she was awarded as a Points of Light recipient. This honor is one of the highest civic accolades in the world, one in which she (alongside her husband) were humbled to receive. Her heart for service have fueled her travels to Haiti, Dominican Republic and Puerto Rico to bring shoes to children through Soles for Soles and build water reservoirs with Food for the Hungry so young girls may attend school and receive an education as opposed to walking long miles every day to get water for their families.
Mrs. Sensabaugh realized her purpose when she birthed her gift of Happy Birthday Dominique. As the Creator of this mission-based project, she uses the weeks leading up to her birthday month (December) to spearhead a series of community service projects. Dominique's partnerships have ranged from food banks to educational resources. This year she will expand her reach to include both Nashville, TN and Charlotte, NC.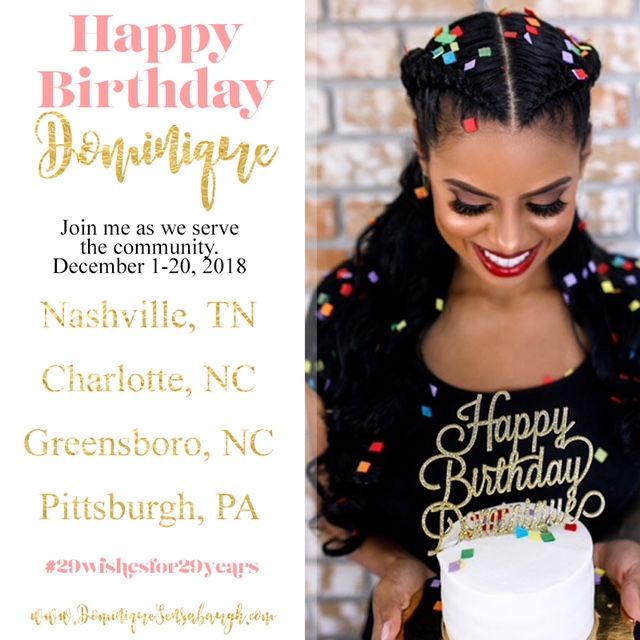 If you would like to learn more about how you can support HAPPY BIRTHDAY DOMINIQUE or if your organization would like to become a partner—please contact: [email protected]
ADDITIONAL LINKS/RESOURCES
Video Footage from previous Happy Birthday Dominique events: