Women hold tons of titles, including breaking the stigmas of male dominated industries! The Prevailing Women magazine got a chance to chat with the women-owned tattoo shop owner Jackie Matikas, who makes it her mission to offer a collaborative and luxurious tattoo experience for the DMV area. "Our vision is to revolutionize the tattoo industry with a little less grudge and a lot more glitter. We aim to create by crafting an environment of innovation and excellence. We strive to inspire by producing energy so pure and inviting that it stimulates greatness. We seek to create a community and value our tribe by encouraging their expression through art. Finally, we develop artists that are dedicated to being both teachers and students."
What inspired you to pursue a career in the tattoo industry?
"I was born an artist, into a family full of artists. Yet, I never thought I would actually pursue it as a career because I was scared of living out "starving artist" narrative. While trying to study and establish a career to support the lifestyle I wanted to live, I attended University of Maryland, College Park to pursue a bachelor's degree in Public Relations. At the time, my neighbor's girlfriend was looking to pursue a career in tattoo artistry and a light bulb went off. I thought that would be perfect for me but back in 2006, the industry was not as accessible as it is now. One day I came home to find she had ordered a tattoo kit on ebay and was tattooing people out of her basement. After watching her, I decided to tattoo myself. Once I posted it on facebook, my inbox was full of people who were asking to get tattooed. That's when I learned the true power of social media."
Being successful can't happen alone and it truly takes the dedication of our loved ones and team members to take our ventures to the next level. " I have to shout out my mom at this moment because she paid for my 3.5 years of college and still supported my desire to fulfill my true passion. She helped me take out my first line of credit and purchase all of the essentials to open up a shop in her basement. Youtube and online resources were at a minimum back then, and the industry was extremely hard to enter properly with most established artists and shops denying apprenticeships so I taught myself by trial and error on myself and several clients.  After a year of tattooing in my basement, someone contacted me and said there was a shop hiring. Within a week, I was hired and began tattooing with a few other artists with a lot more experience.  After tattooing at this shop for about a year, the business side of my mind took over and while building my clientele and online presence, I decided I wanted to open my own shop."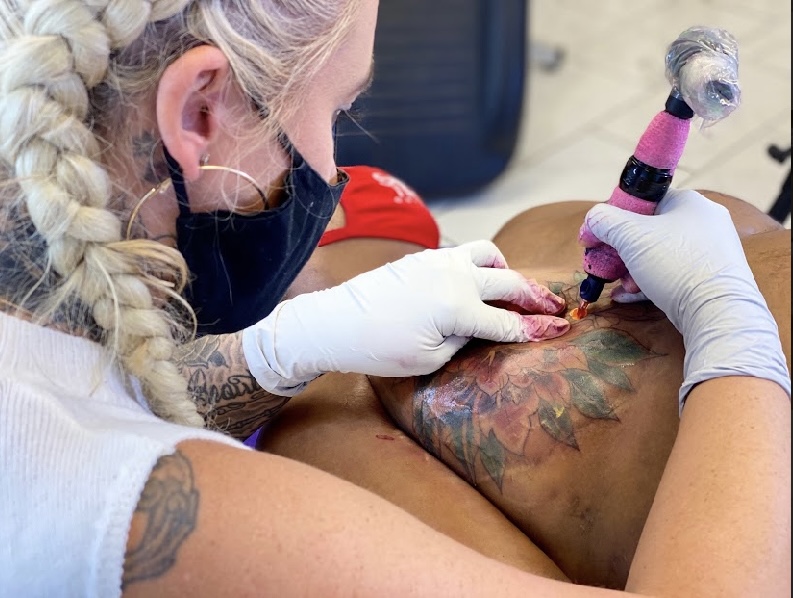 Were there obstacles in your own career regarding your race or respect to other races?
Thankfully, there haven't been many. We take an active stance in the community against racism, sexism and any other "ism" that perpetuates hate or oppression. We have a firm black lives matter stance posted loud on our website and instagram and embodied proudly within our company culture and charity work.
As a female empowerment driven "fempire", Pretty In Ink tears down any wall, barrier, or belief that encourages hatred, or oppression of anyone based on gender, religion, sexuality or race. We don't stand for it and actively fight against it. Most people of color think they are limited in color pigments and design when it comes to tattoos, but because our staff has been trained to work on all skin tones, and are mostly African American women themselves that have tattoos–we have extensive knowledge in advising clients and challenging the tattoo myth.
The elephant in the room? Yes, I'm white–and I hire, work with and place predominantly black people in positions of power within my company. Everyone from our shop manager, to our accountant to our team of publicists are beautiful, smart, strong melanated women. Why? Mainly because Prince Georges County is my home where I have been born and raised for 35 years–my community growing up has always been people of color. I have grown up surrounded by black culture and have love and respect for it. Some of the closest people in my life are of color and I have learned more and more over the years about ways I cannot just be against racism, but actively stand up and fight against it. At Pretty In Ink, we've formed our own family and we have locked arms to undertake conscious action and education to combat the problem within the workplace and the community.
What were the critical success factors for you in moving up as a business woman?
The biggest success factors in moving forward as a business woman have been my support system, my failures, and my humility.
Having a strong support system and backbone – Every industry comes with high highs and low lows and it's so important to have a tribe behind you to push you forward and pick you up when you're down. Between my mother, who has been my biggest supporter and #1 fan, and my team of amazing friends and family have pulled me up from rock bottoms, celebrated successes and have given me unbiased ears, pure hearts and honest advice. I can't imagine where i would be without the people that have helped me raise my children, live my life and build my business.
Remember Your Why: That will carry you through the hard time – My failures have led to some of the hardest moments in life and in business, but without these hardships I would never learn the most difficult lessons needed to become knowledgeable in business. I've gone from owning a successful tattoo shop, back to the basement for 3 months, into an office space for 8 months back to owning a flourishing tattoo shop embodying my vision in the past 3 years. Without losing it ALL, i would never know that i had the strength, resources and grit to rebuild it from scratch.
Maintaining a healthy balance of confidence and humility is important in business. Do not be afraid to operate in your strengths and outsource your weaknesses or blind areas. For a long time, I operated alone in business and was scared to trust anyone with my "baby." Regarding humility, it is extremely important to me to remain a student of the industry and of life. None of us know it all. Keep an open mindset and be okay with constant improvement.
Build a solid team – Working alongside my sister in business Shantae for the past two years has allowed the shop to grow expenentinently and we continue to establish and tailor our terms and conditions and shop protocols. She trusted me with quitting her full time government job to manage the shop and become a full time tattoo artist so in returned I trusted that she would carry and develop the Pretty In Ink vision and mission.
How do you empower women?
The staff at our shop are a team of best friends in real life. When you enter the room with any one of us, or a group of us–you immediately feel like family and like you've known us for years. We will genuinely compliment your outfit, have girls talk with you about life, and help you create your life long artwork as if it were our own. We love to support all of our clients that have businesses and fundraisers and are always looking to help the next woman win with as much support as possible.
During national women's history month, Pretty In Ink is at it again…spreading the love and blessings within our community. This time, we are planting seeds through our Pretty Productive Initiative. This girl gang is always proud to support women and spread the love within us by uplifting and aiding all. Specifically, the Pretty Productive Initiative is seeking a 2021 young woman to sponsor in entrepreneurship. For us, it only makes sense that we give back and are active in community growth and igniting the dreams of those around us.
The biggest outcome of this initiative is…everyone's a winner. While we can only select one Grand Prize and one Runner Up 2021 Initiative Nominee, we have full faith that this initiative will inspire plenty of entrepreneurs to go the extra mile and encourage those dreamers to follow their hearts in the journey to entrepreneurship.
As a company rooted in philanthropy and investing in our community, at Pretty In Ink we are putting our money where our mouth is!
For more information about the Pretty In Ink Tattoo Shop, visit www.prettyinink.net, and be sure to follow their social media pages @prettyininktattoos and @jackie.the.brand . Also, if you are thinking about a tattoo or choosing Pretty In Ink as your home shop, they offer an exclusive monthly newsletter that gives themed discounted tattoo deals and sales every month starting at just $50. Go to their website to subscribe!