After a long day of hair & make up, over a dozen outfit changes, touch ups and location changes, our Founding Editor-In-Chief, Sabrina Seymore, had the chance, to meet Judge Faith Jenkins, who headlines daytime TV show 'Judge Faith', in the L.A. Live area for an evening of dinner and cocktails.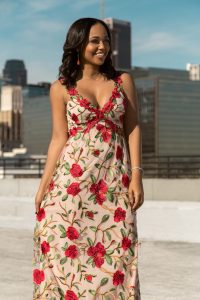 Get an intimate, on set look at Judge Faith Jenkins cover shoot with videographer Zoe Pictures in our exclusive behind-the-scenes short video.
"To prevail means to prove more powerful than opposing forces. God never said weapons against you wouldn't form. He said they wouldn't prosper. Sometimes the weapons will be people… other times they will be circumstances. But you can always remain victorious when you realize in every situation you either win or you grow. You never lose. With that mindset you can enjoy the now, grow through challenging times, and know the best is yet to come"…
Judge Faith is a nationally syndicated, arbitration based court show, which debuted September 22nd, 2014. Faith Jenkins' legal accomplishments began immediately as she graduated first in her law class from the prestigious Southern University. She quickly became a tough New York City prosecutor in the Manhattan District Attorney's office, and is currently a practicing attorney. She is also a preeminent legal analyst for the cable news channel MSNBC. Faith won the Miss Louisiana title in 2000, and finished as the first runner up in the Miss America pageant in 2001. With her diverse background, Faith is dedicated to uncovering the truth and providing fair and honest rulings in her courtroom.
Credits
Photographer: Kristen Ashley Photography
Videographer: Zoe Pictures
Hair Stylist: Ken Rich Hair
Make Up: Janice Green
Wardrobe Stylist: Bernard G. Jacobs
Dress: Alice and Olivia
Diamonds: Neil Lane Jewelry
Publicity: Kita Williams
Cover Design: Lacobe Design House
Studio Location: FD Photo Studio