Steam. Herbs. Heat. My exposed private area.
Welcome to my first experience with yoni steaming. Have you heard of this phenomenon? It's vaginal steaming with essential herbs and warmth to help with physical and emotional health ailments. Disclaimer: To clear up the obvious next question–there is nothing wrong with my private area! I wanted to try it to see what all of the hoop-la was about and to be able to report back to my patients about it, so here I am, sitting on the Honey Pot.
I saw and heard of this first on a reality TV show where the ladies went to a popular spot in Atlanta and had treatments done. They looked comfortable sitting and receiving the steam treatment, covered with towels and blankets. I was intrigued and told myself I would try it the next time I visited Atlanta. This practice, however, dates back to ancient times, used in Africa, Asia and South America. It's now becoming more and more popular here in the Western world.
Before I had a chance to do it in Atlanta, one of my local folks, Megan Macpherson (@simplymegan on social media) started marketing her new business here in Durham. It's called the Honey Pot, for vaginal steaming and treatments.  All of her clients raved about the relaxation, rejuvenation and medical effects they received after their experiences. I treat my female patients daily for common yeast or bacterial vaginitis infections, endometriosis, dysmenorrhea and fibroids, among others, and the steams claim healing in all of these areas and more. Let's see how it goes.
When I arrived, Megan's environment in her home was very warm, inviting and clean. The back room had been converted into a clinical spa atmosphere with comfy couches and 2 "honey pot" chairs with candles, sage, and cloth backdrops on the walls to evoke rest and relaxation. She was there at the stove boiling the herbs, made of raspberry, nettle, lavender and rosemary, among others, and the scent was tantalizing. The boiling pot was cooled and then placed under my ready-made seat and there I sat! My feet rested in a footbath with flowers for moisturization. She said I made the "honey pot face" when I first felt the steam. It was warm, not hot, and we sat and talked about the benefits that her clients praised this practice for—-increased sensation during intercourse, less dryness during menopause, decreased symptoms from infection and menstrual cycles, etc.
When you do the research, the side effects are apparently very minimal. I personally didn't suffer any burns or pain or changes in any negative way. I was offered a tea that she makes as well, including the organic ingredients sarsaparilla, hibiscus, cinnamon, cardamom and a hint of citrus. The tea is a perfect, warm compliment to the steam, as the ingredients are also credited with increasing antioxidants, iron, and blood-cleansing properties in the body. I was so relaxed that I could have closed my eyes and taken a nap. Megan was there on an adjacent couch supervising and serving me the entire time, answering questions and providing guidance. I didn't want to go back to work!
I returned from my lunch hour feeling good feelings and good vibes. My "nether-regions" felt clean and…..we'll leave it at that. Hubby didn't have complaints, either, not that I was getting any complaints before J I'll definitely try it again soon.
Check out Megan's business at http://www.simplymeganmethod.com/home/honeypot/
About the Author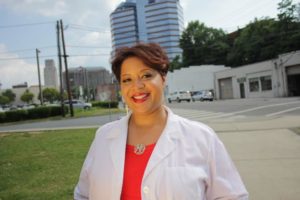 Nicole Swiner, MD, is a family physician, wife and mother of two in North Carolina. She loves taking care of the family as a whole—from the cradle to the grave. Her interests include Minority Health, Women's Health and Pediatrics. When she's not treating patients at Durham Family Medicine, she's speaking in the community, writing, or spending time with her family. Her passion is making medicine "plain" to her patients, so that all people, from all walks of life, can understand how to take better care of themselves and their families.