It's been a month since our Inaugural Women's Conference and we are still riding on the highs of everything that took place last weekend! The Prevailing Woman greeted hundreds of women as they blew in from different parts of the country ready to receive the She Prevails Experience. We know that so many wanted to attend but couldn't. No worries. We've got the next best thing. While it's super challenging to put this epic weekend into words, we're going to try to give you the play by play. So, gather round friends. There's lots to discuss!

Friday Evening:
Nothing sets the tone for an event quite like a great kickback sprinkled with a little southern hospitality. Alongside the Wonder Women League, we had the honor of hosting an intimate dinner for the guest speakers of the conference. It unfolded beautifully as our dynamic speakers arrived at the location looking stunning as ever and bringing all their good vibes into the room with them. Some of them had previously crossed paths with each other while many of them were just meeting for the first time. For over three hours, everyone sat together and cackled with each other across one big table over signature cocktails and a savory meal fit for Queens.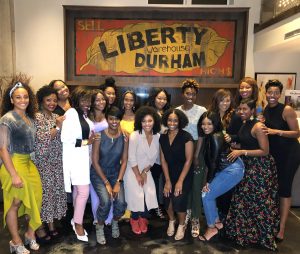 In what felt like college girlfriends reuniting at homecoming festivities, these ladies shared their ideas and experiences with one another, planted seeds of future collaborations, and affectionately inspired each other to continue shining in their own right. In a room filled with some of the best influencers, bloggers and professionals, the connections were effortless. The conversations were fluid. The love and mutual respect was genuine. Of course, the selfies were flawless. It was a perfect manifestation of the power that is formed when you bring together passionate, brilliant, like-minded, creative women. These were the moments that laid the foundation for our weekend….and they were magical!
Saturday:
Let's begin with the venue shall we. It was the 21c Hotel of downtown Durham, NC that hosted our Saturday events. Before you dismiss this little fun fact, I need you to understand that 21c Hotel is not just your typical hotel or convention center. It is a boutique hotel that also happens to be a contemporary art museum…A MUSEUM!! It houses over 10,500 sq. ft. of curated exhibitions and art pieces rich in history and culture. The art. The culture. The architecture.
The Prevailing Women. It all came together for the ultimate vibe! We essentially filled a museum, a place where people come to view and experience historic and cultural pieces of art, with a sea of black women. Black women who are art forms in and of themselves, rich in history and culture. The irony is too beautiful not to point out.
Our Founding Editor-in-Chief Sabrina Seymore welcomed our guests and laid out our itinerary for the day. She introduced our first speaker on the main stage to help guests prepare their minds for the gems that they were about to receive.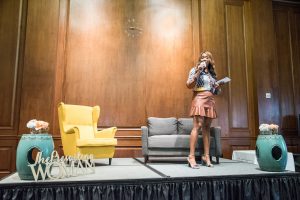 Kelsey Hargrove, psychotherapist and yoga instructor, peacefully guided us in a mindfulness exercise that included a series of small yet impactful actions with our minds and bodies. These actions helped us become keenly aware of our thoughts, bodies, and emotions. It was a powerful exercise that Kelsey encourages everyone to practice, even if it is just 5 minutes a day.
To kick off our main stage conversations, we welcomed Dayna Bolden, of the daynabolden.com lifestyle/fashion blog, and celebrity stylist Tamara "Hush" Lee of lovehushboutique.com. These ladies broke down all things business, work ethic, sowing, and serving. It was the perfect segue into our breakout workshops. Our speakers facilitated workshops in various areas. Below was the lineup for Saturday:
Love, Sex, and Relationships; (1) Sex: The Unspoken Truth – hosted by Dr. C. Nicole Swiner, Ashley Townes, and Nurse Alice Benjamin, and (2) The Evolution of Motherhood – hosted by Dr. Siti Lowery, LaTisha Perry, and Jacquelyn Rodgers.
Boss Business; (1) How to Monetize Your Message – hosted by Alisha Nichole, (2) Community Over Competition – hosted by Taylar Barrington and Brittany Garth, and (3) How and Why You Should Create Your Own Lane + Funding It – hosted by Mandy Bowman and Elana Walker.
Power; (1) Tackling Your Money, Debt & More to Live Your Best Life – hosted by Dominique Broadway, (2) Philanthropy Through Style, Empowerment, and Inspiration – hosted by Dominique Sensabaugh and Pascale Sabian, and (3) The State of Black Women: Why Representation Matters – hosted by Commissioner Jacqie McWilliams and Lori Jones-Gibbs.
Well + Great; (1) Ladies, Let's Talk about Da' But – hosted by Catherine Williams-Hardy, (2) Owning Your Emotions: Both Positive and Negative – hosted by Chinyere Acholonu and Sharonda Arnold, and (3) Pardon Me, Your Inner Beauty Is Showing – hosted by Symone Morales.
Workshops went on throughout the morning and afternoon in various parts of the museum. Ladies were fully engaged, asking questions and sharing "ah-ha" moments with one another. When guests were asked how they were enjoying the conference so far, Shawana of Raleigh, NC said, "I'm on my 6th page of notes." Another guest, Nicole of Washington, D.C said, "I'm loving it so far. The speakers are so positive and accessible!"
Between workshops, our beauty editor Alicia Ruffin introduced our selfie challenge and show us how to take the perfect selfie. Selfies were definitely necessary and in constant rotation throughout the weekend. Also, ladies were able to enjoy an inspiring message from Michelle Lanier, the first Executive Director of North Carolina's African American Heritage Commission. Director Lanier brought us greetings from the office of NC Governor Roy Cooper's office while also informing us of NC's rich legacy of black women in history who advanced causes of justice and equality in NC over the past century. She also graced us with empowering words to remind all of our guests of our power, beauty and culture as black women. She received us with love as she came upon the stage and scanned the entire audience in awe of every woman before her, declaring, "Looking at you all is like water to me." Her warm acknowledgment covered us all in love and further elevated the magic in the room.
Lunch time also included entertainment. Ladies were able to enjoy an intimate musical performance by Grammy nominated artist Maimouna Youssef, who sang original selections, one of which was inspired by Sandra Bland. Her voice was able to penetrate everyone under the sound of her voice with her emotion. It was a performance so fit to follow Director Lanier's powerful words.
The main stage was once again graced with a session facilitated by our Founding Editor-in-Chief, as she led a discussion with Charlie Penn, Sr. Digital Lifestyle Editor at Essence magazine and Kela Walker, 7-time Emmy Nominated TV Host and Producer. These ladies talked about their respective journeys in the world of media. As media professionals, these ladies discussed the importance of meaningful content creation and how it speaks for you when you're not in the room. Guests soaked up every bit of what these ladies poured out, concluding our Day 1 perfectly.
Sunday:
We switched up venues for Day 2. The Cloth Mill at Eno River in Hillsborough, NC was our Sunday setting. An industrial mill turned modern day chic event space with rustic accents and an urban feel, it welcomed our guests to a setup of amazing vendors and a mimosa bar as a DJ played current and classic hits. Guests were able to shop for everything from clothes and accessories to health and beauty products.
Day 2 was all about our solo speakers addressing us altogether in the same room with the same message. Once Kelsey completed our mindfulness exercise for Sunday, Lucinda Cross came before us as our first speaker. If you're not familiar with her, she's an international speaker, lifestyle coach, TEDx speaker, published author and recipient of the Lifetime Achievement Award from former President Barack Obama.
Her story alone was the core of her overall message. She spoke of how she overcame different adversities and used them to push her forward and evolve into the woman she is today. She told stories of how her biggest opportunities came to her as a result of keeping her composure in front of others during difficult situations. She also shared how fear and an inability to make a decision have caused her some missed opportunities in her past. She passionately poured into each and every one of us, pointing out the inner strength that lies in all of us and pushing us to tap into it. It was everything any woman with a dream needed to hear.
Before our keynote speaker addressed us, we broke for brunch and connected with each other at our tables while reveling in some of the South's favorite brunch combos like chicken and waffles and shrimp and grits. All that could be heard over the background music was the beautiful sound of women laughing and excited about their next chapters in between the clinks of their champagne glasses.
On to our keynote speaker, who definitely did not disappoint. Tasha Smith, actress, director, producer, and well sought after acting instructor, delivered an unforgettable message that brought many of our guests to tears. At the center of her message was the Bamboo tree and how it works a lot like us when we're working and grinding towards our dreams. It could literally be years before you actually see the fruits of your labor. She shared some of her personal and private experiences of how her own efforts seemed to be in vain for years before she saw any fruit.
She took all of us on a roller coaster ride of laughter, then tears, then back to laughter again while lacing it all in scripture. Her personality shined through her speech much like it shines through the characters she plays on the big screen. The audience's response to Tasha was complete with all the affectionate ways that black women typically express our love and approval: our slow deliberate claps, finger snaps and random shouts of "Yaaasssss" and "Preach Sis".
The moment was raw, personal and timely for anyone who may have been considering giving up on their dream because they thought their work was in vain. Her message was clear, "Don't walk away from your Bamboo tree too early."
In what was perhaps our favorite moment of the conference, Lucinda Cross surprisingly wrapped up the weekend by leading the entire room in a Sister Circle. This circle involved seating our Founding Editor-in-Chief Sabrina in the middle of the room while every woman present formed two lines on each side of her. As the First Lady of her church stood behind her praying, Sabrina sat quietly in this chair with her eyes closed while every woman in the room took turns walking up to her and whispering words of encouragement and love in her ear. It didn't take long for the tears to start falling.
After months of planning and putting together a women's conference never before seen in NC, Sabrina sat and received all the love, gratitude and pride we all had for her by the time the conference was over. At the end of it all, there wasn't a dry eye in the room.
This was more than a conference. It wasn't your typical women's empowerment event. It was an experience; one that planted seeds AND provided applicable tools. It was a movement that sparked connections which will later birth projects that will advance other women. Lastly, beyond all the plush venues and high-profile speakers, it told the story of a woman with a vision. A vision that later turned into a major print publication; and a major publication that later turned into a major 2-day conference. It told the story of a woman collaborating with other women to create something fulfilling for other women. It told the story of relentless hard work, sacrifice, and persistence and the woman who PREVAILED through it all!

Get ready for next year friends. May the countdown begin to She Prevails 2019!
See our full recap video by Zoe Pictures below.